I cannot wait to get organized. We are still in a middle of construction. Remodeling is not easy. As much as I want and as hard as I try to clean up, I just end up getting more frustrated. Everything's just a mess. From the garage, to the living room, to the kitchen, the sink, bathroom, no dryer, no dresser, no nothing. Waaaaaah, I cannot wait till all this is over. Last month, I just couldn't wait to have a beautiful home. Now? Just please give me a home. Something livable. Lol.
How was your Easter? The kids had so much fun hunting for Easter eggs, and was also very happy on what the Easter bunny has brought them.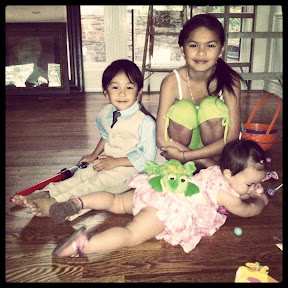 I took some better pictures from my camera, although I still have to import it on my laptop. But I was so sick the whole day today, and just feeling yucky. Stomach flu, is what it is I think. Boo!
But it was still a very productive day coz I finished doing all the rental statements and we got 'em mailed today. I think we are doing well on trying to be better landlords. Haha. It's because We are too kind. I know how hard it is right now. The economy is really bad, but we also have to be smart, because we have kids. We mean business here, lol!
So basically, that's our day...
We had a yummy chicken sopas dinner.
The whole family actually went to bed early that's why I am here typing this. It's mommy time. Hooray for some little "me" time right?!
Till next time,
"Lhey"
- Posted using BlogPress from my Baby iPhone