What a day...
I'm laying here in our bed, well just a mattress actually. It's our first night to stay here in our new home. Although it doesn't feel official yet because we are here in our basement, but it feels so wonderful. Our new home. Our new place. God... I'm so blessed.
Update: We are not done remodeling the upstairs. We sprayed primer the other day and today Jason and Tom worked on finishing some sanding and more little stuff.
But that's not the Highlight of my day...
Raine.
Yep my little princess...
She walked today.
5 steps. I cannot believe it, she did!!!
I cried. Well not a lot. But enough.
I know I'm supposed to be happy. And of course I am. But it's sad. My baby is growing up so fast. She's my last. No more baby for me. I just want to freeze time. I don't want her to grow up. I want her to stay little. My angel.
Aaaaaaaaw :(
It's overwhelming. I'm still shocked but so proud of my strong girl. She's my little super baby.
She's now walking. Yaiks.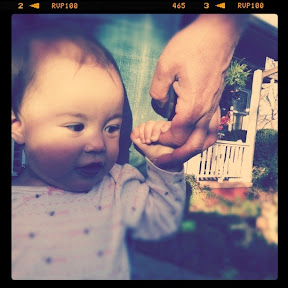 "Lhey"
- Posted using BlogPress from my Baby iPhone