Our house is almost done. We are almost there... Yay!!!
I must say that this part of our journey is quite interesting. We are living in our basement, no kitchen.
I wash our dishes in the tub. Lol. That is really special. We are making memories.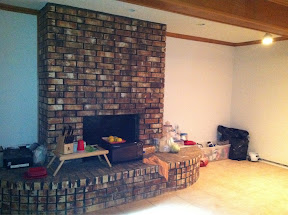 I think it's pretty special that we have these special moments to stay with the kids for a lifetime... And I hope that they will remember this part of our adventure forever. And that may they learn to be humble in life.
I am so proud of my best friend.
He works hard everyday to give me and the kids a home that we can be proud of.
Our home.
Aaaahh it truly feels good to say it.
Our home.
There, I said it again.
Here's a little sneak peek. Lol. Can't really see anything...
It's been raining and gloomy for the last 4-5 days. And I am ready for some sun.
"Lhey"
- Posted using BlogPress from my Baby iPhone