This is the view from our Hotel Room, eek!!! What a spectacular view huh?not.
Well, remember last night the trailer's tail lights wasn't working? Penske sent someone to get it fixed. It was later than our expected check out time so we had to extend our stay a few hours more. And The manager/owner of this motel we are staying at is so rude that I cannot imagine that people are still staying here. It's so Ridiculous.
But, The kids were great as always...
I took them to the pool after breakfast... Its an indoor pool...
At least we got something out of this unfortunate event.
We. Meaning Jason and I decided that we will wait till 4 before we start getting back on the road. Just so the kids are tired from playing all day, and 4 will be a perfect time for their nap.
The sun was out, and it looked like we'll have a great drive ahead of us.
Until...
The truck decided not to start.
What the??? Yep, the truck broke down again. Haha... We could not believe it. Remember our adventure? our drive from Kansas City to Las Vegas?
History is repeating itself all over again.
Gosh, how unlucky can we be?!
Penske sent their guys, tried to fix the truck, and when we thought everything was alright, it was still broken. The mechanic said that this is something serious that he cannot do just a quick fix, they had to tow the truck and send us a new a vehicle. Yah, they're gonna have to unload and reload our stuff into another truck.
But ya know what? We are still blessed. Because we didn't brokedown in a middle of nowhere. We are somewhere safe and warm. In a motel room. Life is still great to us. And also look at this...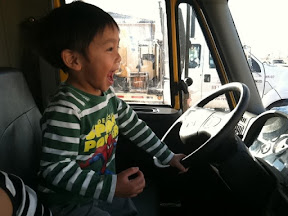 Getting stuck ain't so bad after all...
Everyone's safe. But daddy is tired. He had to stay up and stand there in the cold to watch those three men that helped us load our stuff.
Oh and "ate" is not feeling so well too. She has a slight fever. But I packed all kinds of meds. I am ready for situations like this.
Other than that? Looks like were in great shape to get back on the road tomorrow. *cross your fingers*
Good luck to US! *cheers to life!*
"Lhey"
- Posted using BlogPress from my Baby iPhone