My 2 favorite kind of lipgloss from MAC are Lipglass and Cremesheen.
(click on the images for clearer quality)
Lipglass tends to be a little sticky, but I use it when I want to pack color or use color on top of my lipstick.
Cremesheen on the other hand is very creamy and smooth, it's not sticky at all... But you can still get enough color/shade that you want.
Here is a swatch of the two lipgloss type. Hope it helps you choosing your lipgloss. I believe that there are 3 more types o lipgloss from MAC, i think it's Dazzle glass, lustre glass, and their pro longwear.
I'm not into a lot of shimmer so I don't really care about the two other kind, although I wanna try their pro longwear for my redlips.
I'll definitely make a review of the product once I put my hand on that baby.
So, here's the swatch... Thanks dolls!!!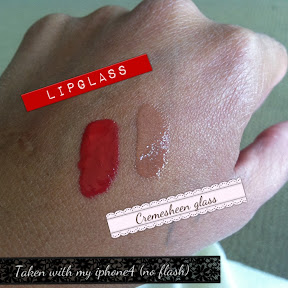 "Lhey"
- Posted using BlogPress from my Baby iPhone