Ever heard of dreamboard for your jailbroken iPhone? Check out my new theme using winterboard.
I feel like it's a totally new phone!!!
I love how simple and clean the look is.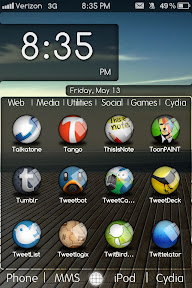 Then if you click on the globe thing in the center, your apps will appear!
Loving it so far... Check it out!!!
"Lhey"
- Posted using BlogPress from my Baby iPhone